4 x 50ml – Core range
$30.00
Packed full of flavour, our 4 x 50ml tasting pack celebrates our core range.
Original Gin – Citrus and lemon bon bons
Pink Gin – Aromatic and floral
Vodka – Smooth and perfect for cocktails or over ice
Espresso Liqueur – Elevate your Espresso martinis or simply pour over ice cream, delicious!
Description
4 x 50ml of the best!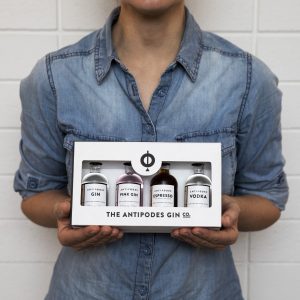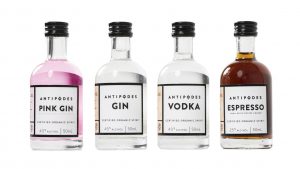 Australia's first certified organic, spice trade inspired chai gin.

A harmonious connection of our triple distilled, charcoal filtered spirit with Swiss water decaffeinated, sustainable coffee beans. Refined with pure Australian rainwater. Perfect in an Espresso martini or straight over…

Our original gin in an ex-Pinot Noir 300L French Oak hogshead from Lark Hill Winery. A beautiful ethereal hue and a new complexity that is soft in mouthfeel, bright in…

Australia's first certified organic pink gin. Kakadu plum, strawberry gum, blue chamomile flowers and ruby red grapefruit gather together with a complex selection of native and exotic botanicals.

The Antipodes – vast oceans crash onto wide open, sunburnt land and wash over bountiful native coastal flora. This gin is our response to Australia's remarkable coastlines – from the…

Our Pink Gin rested for 5 months in a few 220L French Oak Barriques after 3 vintages of Chardonnay from Lark Hill Winery. The melding of the spirit with the…

The purest spirit in Australia - made from scratch.